Welcome

Welcome to Saluna WaterSports & Tours, Reduit Beach, Rodney Bay, St. Lucia, where we provide everything to make your time on and in the waters of St. Lucia as enjoyable as possible!.


Saluna Watersports
Whether you take water sport seriously; want to have fun; take a Boat Tour; a Day Trip; Snorkel; Water Ski; Sail; Saluna Watersports can provide everything, including full instruction and supervision if required, or just the equipment for those with experience.

Saluna WaterSports is owned and run by Andre Calderon, who can easily be spotted on the beach by his friendly smile and easy going nature, along with his team of charming and and very entertaining watersports managers.

St. Lucia

St. Lucia is the sort of island that travellers to the Caribbean dream about - a small, lush tropical gem that is still relatively unknown and unspoilt, with crystal clear warm water, fine white (and black!) sand beaches lined with gently swaying palms, of which Reduit Beach at Rodney Bay is a perfect example, complete with light winds to keep the sunbather's cool and provide ideal sailing conditions.

Where better to go Snorkelling, Water Skiing, Sailing, or on a breathtaking sightseeing Boat Tour than St. Lucia?

Water sports are a way of life on St. Lucia, where the coastline of rain-forest and mountains is frequently broken by natural harbours and bays, with a wild and rugged east coast, and calmer waters located off the west coast, where Saluna WaterSports is located.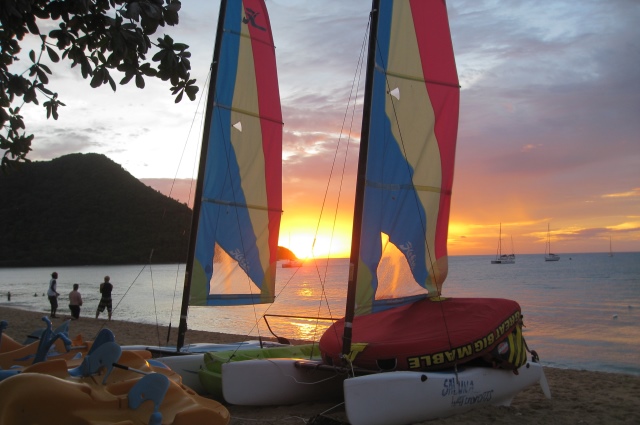 And remember, no matter how exhausted you feel after a day on or in the water, there's a great sunset waiting - especially ideal with a sundowner (or two)!
And 'happy hour' is from 5:30 to 6:30 at the Bay Gardens Hotel bar, right next to the Saluna Watersports hut...